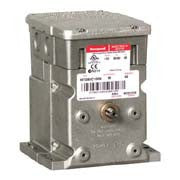 Honeywell M7284C1000/U Actuator
Description:  150 LB-IN, NSR Actuator, 4-20 mA Control, 120V
Product Specifications:
Application:  Electric
Dimensions (in.):  6-7/16 in. high X 5-1/2 in. wide X 7-5/16 in. deep
Dimensions (mm):  164 mm high X 140 mm wide X 185 mm deep
Includes:  Transformer and screw terminal adapter
Weight (lb):  7.5 lb
Item Type:  Product
Mounting:  Foot-mounted
Frequency:  50 Hz; 60 Hz
Approvals, Underwriters Laboratories, Inc.:  Listed: File No. E4436, Guide No. XAPX for USA and Canada
Electrical Connections:  Screw terminals
Supply Voltage:  120V
Power Consumption:  Driving - 15 VA
Approvals, CE:  EN55011 (Emission) EN50082-2 (Immunity) 73/23/EEC (LVD)
Ambient Temperature Range (°F):  -40°F to +150°F
Ambient Temperature Range (°C):  -40°C to +60°C
Internal Auxilary Switch:  2
Auxillary Switch Ratings:  AFL - 120 Vac - 7.2A; ALR - 120 Vac - 43.2A; AFL - 240 - 3.6A; ALR - 240 Vac - 21.6A
Stroke:  Adjustable; 90 to 160 degrees, Symmetrical
Shaft Dimensions (in.):  0.375 in. Square
Control Signal:  Modulating, 4-20 mA
Fail Safe Mode:  Non-Spring return
Torque Rating (lb-in.):  150 lb-in.
Torque Rating (Nm):  17 Nm
External Auxilary Switches Available:  Yes
Shaft Rotation (upon control signal increase):  Clockwise (as viewed from power end) (normally closed)
Factory Stroke Setting:  90 degrees
Timing, Nominal:  30-60 sec
Feedback:  No
Shaft Dimensions (mm):  10 mm Square
Motor Shafts:  Dual-ended shaft
Deadweight Load on Shaft:  Either End - 200 lbs; Combined on both shafts - 300 lbs. 
Internal Transformer:  50004263-002
Technical Documentation:
Marketing Collateral:
Product Selections/Comparisons-Motor/Actuator Selection Guide

Wiring-Typical wiring for Series 70 motors

Dimension-Dimension Modutrol Motor M7824
Dimension-Dimensions for M6184 M6194 Modutrol IV Series 2 Motors
Technical Data:
Product Data and Specifications-Modutrol IV Motors
Product Data and Specifications-Series 71, 72 and 76 Modutrol IV Motors
Product Data and Specifications-Motores Modutrol IV Series 71, 72 y 76
Installation Materials-Series 61 and Series 62 Modutrol IV Motors/Series M71, M72, and M76 Modutrol IV Motors
Installation Materials-Honeywell Damper Adjustment Guide
* If the order is placed where the quantity ordered is more than the quantity available, all items "In stock" will be shipped and the remainder of the items will be shipped as soon as we receive the back ordered items.